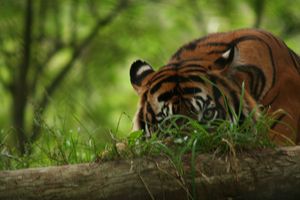 "There's just nothing quite like Andrea Plamondon going for the big hooks in this record, and whether she's being delicate with her delivery or trying to grapple with something a little more intense and demanding on the part of a vocalist, she always has a certain swagger that you can't teach nor practice into existence, no matter how dedicated a performer you are (or just want to be). We're listening to an artist who has a lot of ability, and she's organizing that ability before our very ears in a record like Songs for Forever."  
- Hollywood Digest 
"There's a jagged edge to "Dreams" that just might cut you if you're listening to it long enough, but if you think this is the lone example of imposing musicality to be found in the new record from Andrea Plamondon, Songs for Forever, you're in for quite the surprise this July. Rather than streamlining tracks like this one, "Dream," or "The Departed," Plamondon is insistent on giving us a texturally expressive performance here, demanding our attention through so much more than words and music alone."
- melodymakermagazine 
"Initially delicate in tone and shape, there isn't a moment wasted in Andrea Plamondon's mission to make a monolithic melody out of "Nella Fantasia" in the new album Songs for Forever, and despite her urgency, this complicated piece of music comes into focus all too seamlessly. The same story can be said for the other songs in the eleven-part tracklist of Songs for Forever, all of which seem to flirt with different eccentricities within the classical music lexicon so many players have grown too intimidated by to really experiment with. There's something ancient about what Andrea Plamondon is offering here, and yet it feels as relevant as ever in this presentation." 
- Medium 
"Only Eden" is a song that is made upon the shoulders of duality, but if there's one key element to take away from its roughly three-minute running time, it's the boundless talent of its singer, whose voice is angelic in every way here.
- MusicExistance 
"Only Eden" is an amazing introduction to the music of Andrea Plamondon, and if it's giving us any sort of indication as to what her artistry is all about, I think we're going to be seeing plenty more of her content in the near future. As a vocalist, the depth of her melodicism is almost endless, and that's illustrated quite clearly in "Only Eden."
- Indiebandguru 
"Only Eden" is just a bright example of pure artistry in the Neoclassical music scene. Andrea Plamondon can be fairly considered as a highly motivated singer with advanced voice capabilities. Grab the chance to listen something unique and don't forget to watch the clip too."
- Nagamag  
"Andrea and Terblelos created an inspiring song that speaks about how dreams can come true. Their music ability and artistry are extraordinary and unconventional; their sound is at once clean and crisp, fun and effortless, complex and mesmerizing. The hypnotic beat and atmospheric effects intensify the music and Andrea's vocals soar. Both writers earn the title of "artist" and their song "Dreams" reminds you that it's worth believing in yourself and your dreams in life".
- Indie-spoonful 
"I expect to see Andrea Plamondon's face in all of the biggest magazines in the near future. Her style is rich and diverse, and this song is a perfect example of the talent and passion Plamondon has cultivated." 
 - Please pass The Indie 
"Andrea Plamondon has an incredibly strong voice which is immediately evident once you take a listen to her music. Not only is it strong, it is brilliantly sound and pitch perfect. It's so astounding more people aren't aware of her voice that it's almost criminal".
 - Mars Band 
"The Departed" as performed by Andrea Plamondon is an example of excellence in singing, interpretation, orchestration and musicianship. Plamondon not only has a stellar voice, but she has a talent with expressive lyricism and musical nuance that fuels her performance. Shout out to Connor Hutton on a fantastic production.
  - Please pass The Indie 
'Andrea Plamondon's exquisite and passionate vocal delivery breathes new energy into this opera classic and transports listeners to a place of sublime aural beauty.'
- The Akademia Music Awards, Los Angeles
"It's hard to deny that Plamondon has the vocal skills to front any sort of band she desires..."
- Doug Cornell, former music director of amp3.com
"I Still Remember" is very intense and full of dramatic flair. At times you will even feel as if the music is taken from a play or theatre production. A nice insight to seventeen years out of the career of this singer songwriter."
- Orcasound   
"I just listened to ALL of Safffras' songs and I LOVE the sound of your Rich, smooth polished Vocals. It's a clever idea to combine the styles of Opera and hip-hop!!"  
- Randy Powell, CEO Kicksta Muzik Publishing (BMI) 
"Talk about your powerhouse performer; Andrea Plamondon knows music. And although her life has been forced at times with tragedies. This has not stopped Andrea from making music that speaks to the soul..." 
- JC Internet Radio
"Plamondon is widely versatile with an emotional and mental recurrence to the mind. She would likely be comfortable on a punk stage, taking a bow on Broadway, performing a rock opera or singing three hail Mary's, and this collection is proof of that. "  
- Womens' Rising
"I Still Remember" is clearly a labor of love, illustrating the range of the artists's work during this seventeen year period. Andrea's intensely delivered vocals 
pierce through every track..." 
- Musical Discoveries 
"This anthology style of release from Andrea Plamondon is definitely not the usual music I get in the mail to review. This release blends musical styles like  opera, experimental, new age, and even some progressive rock to create some very unique  music... "
- Indie Music Stop.
"I want to compare Plamondon's voice to someone' s but I'm not quite comfortable name checking Kate Bush, Grace Slick, Klaus Nomi, or Ofra Haza;  none of them exactly suggest the drama and power and compelling weirdness of Plamondon's pipes." 
- Roctober Magazine
"If you like the music of Kate Bush, Toyah Wilcox, or Siouxie Sioux, you'll add Andrea Plamondon to those names. Andrea is one of the underground's
best kept secrets (outside San Francisco)..." 
- Prognaut 
"On her archival collection Andrea Plamondon remembers her past well- now she's looking to make her past unforgettable! "
- Kweevak